Come and meet one of the most wonderful areas of Greece with the most striking natural beauty, a place where you can experience great history and tradition. "Zagorochoria" refers to 46 villages that are interconnected by mountain roads, where each visitor can explore and discover his own favorite. One can enjoy peace and quiet, or extreme sports, breathtaking views and villages literally located in the wild forests. Imposing mountain peaks, crystal clear rivers, like Voidomatis river and alpine lakes, such as Drakolimni.
At Zagorochoria you will admire the traditional architecture characterized by the main materials used to build houses: stone and wood. The same materials are still used today (most of the villages at Zagori are characterized as traditional housing estates, according to a specific Zagori decree). The hostels where we will stay are examples of this architecture and they offer an authentic experience, while providing all necessary comforts.
We have planned a series of activities for this visit, in order to enjoy every minute. Anyone in good physical condition can participate. No one can participate in only a segment of the scheduled trip.
And of course, any visit to Zagori is a culinary experience as well! Here you will have the chance to taste the authentic food and drinks of the area. Traditional recipes ranging from popular pies, delicious sweets, fresh local meat, pure red wine produced in the area and the very famous "tsipouro"!
Day one: Arrival at Zagorochoria
Arrival at Macedonia Airport in Thessaloniki and transfer to Monodentri, located in the heart of Zagori. Dinner at the guest house.
Day two: Crossing the renown Vikos Gorge
Vikos Gorge is one of the most popular sights in Zagori and a natural wonder! This is one of the biggest, deepest and most impressive gorges of the world, with abrupt altitudinal changes, steep slopes and the most rare and beautiful flora and fauna. It varies in altitude between 550 and 1779m. It stretches for about 24km in length, with approximately 900m in depth.
The Vikos Gorge is listed by the Guiness Book of Records as the deepest canyon in the world in proportion to its width: 1100m at its narrowest part, with a depth of over 900m. Voidomatis river rises in the gorge, near Vikos village.
The team will cross the gorge through a very well marked hiking trail, starting from Monodentri village, towards Vikos village. The hike lasts for about 6 hours and the view is simply breathtaking!
In the evening, we will enjoy our dinner at a traditional restaurant in Elati.
Day three: "Skala Vradetos" (impressive stone hiking trail) - Vradeto
We will hike from Kapesovo towards Vradeto village, through an impressive stone trail. Until 1973, this was the only route that connected Vradeto village to the outside world!
We will then continue towards Beloi, where we will rest at a natural viewing platform, the best viewpoint in Zagori.
We will hike back down the Vradeto stone staircase and rest while enjoying our lunch at a traditional tavern in nearby Koukouli village.
Day four: Rafting at Voidomatis river, walk
Descending a river with an inflatable boat is what we call "rafting". Experienced and trained escorts will guide us and be responsible for everyone's safety on the boat. The waters are not wild; rather, they are just right for someone who is trying the sport for the very first time. Everyone can participate and have fun!
After rafting, we rest at the guest house. In the evening we will have dinner at a traditional restaurant in a nearby village.
Day five: Destination: Meteora!
Just when you thought that you have seen everything and you feel totally satisfied, we are off to Meteora! The "Meteora" is one of the largest and most important complexes of Eastern Orthodox Monasteries in Greece, built on extremely high natural sandstone rock pillars. Visitors from all over the world travel simply to witness this natural wonder, to see these magnificent rocks "standing" proudly, reaching up to the Greek sky!
Very few have the opportunity to climb these sacred stones and you maybe one of them! Are you in? You don't need any previous experience, since you will have experienced guides at your side, every minute!
After we settle at our guest house in Kastraki, we will anjoy a short hike to Ayios Stefanos Monastery and a visit to the monastery. Free evening.
Day six: Climbing
Today we climb! We will spend our day at the climbing sector with experienced instructors. Beginners can try out this unique experience and more experienced climbers can have a go at some beautiful multi-pitch routes. In the evening, we will have a last tradiotional dinner at a nearby tavern.
Day seven: Climbing
After breakfast we depart for Thessaloniki, where we can enjoy our day with no commitments, until departure time. Departure for Larnaka in the evening.
All participants should have their own personal clothing and equipment for hiking. Rafting equipment will be given to you on the spot and is included in the price.
A complete and analytical equipment list stating all the details, as well as a discount voucher from Get Out Outdoor Store will be sent right after the participation confirmation.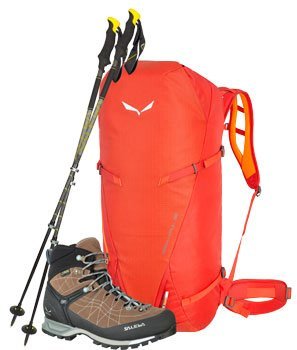 How to reserve
If you wish to join the team, book your trip today or contact us for more details.
Next scheduled trip:
Available upon request
Trip Duration:
6 nights/ 7 days
Proposal for physical preparation program if necessary
One instructive hikee before departure (for residents of Cyprus)
One Step Further guides and activity instructors
Designing – Planning – Execution – Supervision
Inland transports via bus
Overnight stay with breakfast in traditional guest houses and dinner in traditional taverns as mentioned in the program
Personal equipment list and assistance for purchase and use
Equipment for rafting
Airfare tickets
Personal hiking equipment
Medical examination before departure
Travel Insurance
Rescue costs
Personal expenses (drinks, etc.)