Mount Olympus is the highest mountain in Greece and the second highest mountain in the Balkans, as well as the second highest mountain in the area between the Alps and Caucasus. Its highest summit, Mytikas (or Pantheon as it is also known) that stands tall at 2, 918m, was the home of the twelve gods of Olympus, according to Greek mythology. Mount Olympus, a mountain of worldwide acclaim, boasts rich and interesting biodiversity and the surrounding area is protected as a National Park.
The first time that one visits Olympus is never to be forgotten. The unsurpassed beauty of Greek nature, beautiful scents of the forest, the enchanting humming of birds, the breathtaking steep slopes and the fresh air, all combined create a magical world that carries any hiker to a wonderful dance of emotions. It's not easy for one to get enough of Olympus because each time it has something new to offer. Our trip will last 4 days. We hope that you'll join us to share beautiful lifetime memories.
Day 1: Arrival at Litohoro village and ascent to the first refuge
From Macedonia Airport in Thessaloniki we will take public transport to beautiful Litohoro village that is situated at the foot of Olympus. Our hike will begin at Prionia and heading upwards through oak and pine forests, we will reach "Spilios Agapitos" refuge, where we will spend the night. The refuge is situated at an altitude of 2,100m. Our hike is uphill around 3-4 hours based on the pace of an average hiker. Once we reach our destination, we will enjoy our dinner and relax at the refuge.
Day 2: Ascent to the second refuge
We will take the central path towards Zonaria that leads to the Muses Plateau. The hike is uphill and demanding, even though it is not long. It will take us about three hours and we'll reach a 500m altitude difference from the first refuge. For the rest of the day we'll be hiking on the Muses Plateau at an altitude over 2,600m and we will attempt to summit nearby peaks Toumba and Prophet Elias. We will spend the night at "Christos Kakalos" refuge at an altitude of 2,648m and have our dinner there. If the sky is clear you will be able to see the beautiful countless constellations that will seem as near as ever!
Day 3: Ascent to Mytikas
And finally the day arrives that we will attempt to summit Mytikas at 2,918m. We will go through Zonaria and Mytikas gully. The scenery is alpine and the gully is somewhat exposed. We might come across some snow remains in Zonaria. Duration of the climb is approximately one and a half hours and the altitude difference is 270m. Before we know it, if all goes well we will be stepping on the highest peak in Greece. On the way down, while discussing our emotions and taking in the joy of success, we will pass by the refuge to collect our belongings and after we rest for a while, we will descend to Laimos and Petrostrounga heading left towards to Koromilιa refuge where we will spend our third night. The descent is magical and the panoramic view is breathtaking. Tonight we definitely deserve our dinner!
Orlias Gorge
Orlias gorge is a well hidden treasure among beautiful surroundings and full of life. Its running waters create stunning falls and natural water slides, forming a beautiful natural playground!
Canyoning is the activity of descending in a gorge while using ropes appropriate for abseiling. It's a fun activity, but at the same time must take place with care, responsibility and in top safety conditions. Our group leader and the experienced guides of One Step Further will be there to ensure we all have a great, memorable day!
Day 4: Canyoning in Orlias Gorge
From the refuge we collect our belongings and hike for around 40' to the point where we will enter the gorge. The descent will take around 5 action-packed hours! Get ready for a lot of fun! After we descend we will find ourselves at Dion village where we will rest and leave for the airport.
All participants should have their own personal clothing and equipment for hiking. Rafting equipment will be given to you on the spot and is included in the price.
A complete and analytical equipment list stating all the details, as well as a discount voucher from Get Out Outdoor Store will be sent right after the participation confirmation.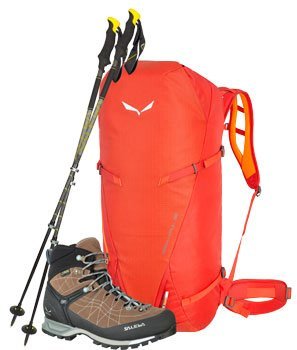 How to reserve
If you wish to join the team, book your trip today or contact us for more details.
Next scheduled trip:
1-4 September 2022
Trip Duration:
3 nights/ 4 days
Proposal for physical preparation program if necessary
One instructive hike before departure (optional)
Group leader by One Step Further and local activity instructors
Transportation via public transport from Macedonia Airport to starting point and vice versa
Overnight stay with breakfast and dinner for all nights in mountaineering refuges
Personal equipment list and assistance for purchase and use
Canyoning including all equipment
Airfare tickets
Personal hiking and overnight stay equipment
Travel Insurance (optional)
Rescue costs
Personal expenses (drinks, etc.)