Come and meet one of the most wonderful areas of Greece with the most striking natural beauty, a place where you can experience great history and tradition. "Zagorochoria" refers to 46 villages that are interconnected by mountain roads, where each visitor can explore and discover his own favorite. One can enjoy peace and quiet, or extreme sports, breathtaking views and villages literally located in the wild forests. Imposing mountain peaks, crystal clear rivers, like Voidomatis river and alpine lakes, such as Drakolimni.
At Zagorochoria you will admire the traditional architecture characterized by the main materials used to build houses: stone and wood. The same materials are still used today (most of the villages at Zagori are characterized as traditional housing estates, according to a specific Zagori decree). The hostels where we will stay are examples of this architecture and they offer an authentic experience, while providing all necessary comforts.
Adventure excursion schedule
Day one: Arrival at Zagorochoria
Day two: Crossing the renown Vikos Gorge
Day three: "Skala Vradetos" (impressive stone hiking trail) - Vradeto
Day four: Rafting at Voidomatis river, walk
Day five: Destination: Meteora!
Participants must have their own personal gear, apparel and winter mountaineering stiff boots.
Ice axe, crampons, helmet, skis & ski boots can be rented.
A complete and analytical equipment list stating all the details, as well as a discount voucher from Get Out Outdoor Store will be sent right after the participation confirmation.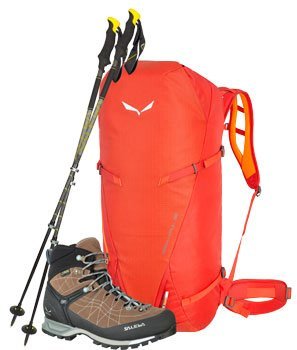 If you wish to join the team, book your trip today or contact us for more details.
Next scheduled excursion:
Proposal for physical preparation program if necessary
One instructive hikee before departure (for residents of Cyprus)
One Step Further guides and activity instructors
Designing – Planning – Execution – Supervision
Inland transports via bus
Overnight stay with breakfast in traditional guest houses and dinner in traditional taverns as mentioned in the program
Personal equipment list and assistance for purchase and use
Equipment for rafting
Airfare tickets
Personal hiking equipment
Medical examination before departure
Travel Insurance
Rescue costs
Personal expenses (drinks, etc.)