Mount Olympus is the highest mountain in Greece and the second highest mountain in the Balkans, as well as the second highest mountain in the area between the Alps and Caucasus. Its highest summit, Mytikas (or Pantheon as it is also known) that stands tall at 2, 918m, was the home of the twelve gods of Olympus, according to Greek mythology. Mount Olympus, a mountain of worldwide acclaim, boasts rich and interesting biodiversity and the surrounding area is protected as a National Park.
The first time that one visits Olympus is never to be forgotten. The unsurpassed beauty of Greek nature, beautiful scents of the forest, the enchanting humming of birds, the breathtaking steep slopes and the fresh air, all combined create a magical world that carries any hiker to a wonderful dance of emotions. It's not easy for one to get enough of Olympus because each time it has something new to offer. Our excursion will last 3 days or 4 days with the Canyoning. We hope that you'll join us to share beautiful lifetime memories.
Adventure excursion schedule
Day 1: Meeting at Litohoro village and ascent to the first refuge
Day 2: Ascent to Muses plateau and the peaks
Day 4: Canyoning in Orlias Gorge
Participants must have their own personal gear, apparel and winter mountaineering stiff boots.
Ice axe, crampons, helmet, skis & ski boots can be rented.
A complete and analytical equipment list stating all the details, as well as a discount voucher from Get Out Outdoor Store will be sent right after the participation confirmation.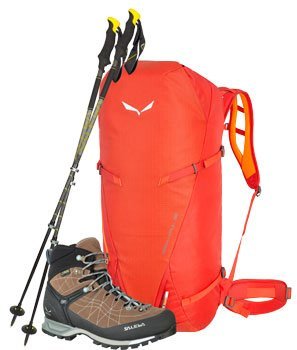 If you wish to join the team, book your trip today or contact us for more details.
Next scheduled excursion:
3 days without Canyoning or 4 days with Canyoning
Recommendation for a preparation/fitness program for those who wish it
Pre-departure educational hike (optional)
Pre-departure abseiling for Canyoning participants (optional)
One Step Further leader
All leader expenses (airfare, transportation, accommodation, food)
Canyoning including equipment
Air tickets and domestic transfers
Food/accommodation expenses
Personal equipment
Travel insurance (optional)